Bikecraze - Unleashing the Power of Electric Riding!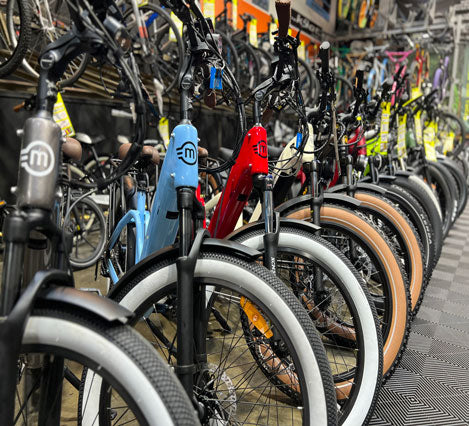 Bikecraze - Unleashing the Power of Electric Riding!
Welcome to Bikecraze, the electric bike haven nestled in the vibrant heart of Southern California, proudly standing as the pinnacle of the USA's electric bike movement. Established in 2010 as a division of Jag Brands LLC, our journey started in the humblest of places – Sheri Jagow's garage. Sheri, a seasoned 15-year automotive and hospitality executive, initially dabbled in online sales, ranging from used kids clothing to beanie babies on Ebay. Fast forward to 2010, Bikecraze was born, transforming from a garage operation into a thriving 3,000 sq ft warehouse.
The Bikecraze story took an exhilarating turn when Sheri's husband, Scott Jagow, a 25-year veteran in advertising and marketing management, joined the venture. Since our inception, we've been pioneering the industry, consistently staying ahead of the curve. Unlike traditional bike shops, Bikecraze is a unique blend of a clubhouse and a warehouse, creating an atmosphere that's warm, inviting, and filled with options for all budgets.
Revolutionizing Riding Experience: 15 Top Electric Bike Brands
At Bikecraze, we are not just a store; we are a destination. Our extensive inventory boasts 15 of the industry's top electric bike and traditional bike brands. These include distinguished names like Aima, Aventon, Electric Bike Company, Emojo, Magnum, Michael Blast, Stealth, and many more. With an annual sales projection exceeding $1 million, we've curated a selection that aligns with our years of expertise, knowing what works and predicting the future of electric bike trends.
Our commitment to quality extends beyond electric bikes. We also feature renowned traditional bike brands such as Fuji, KHS, SE Bikes, and Breezer, offering a comprehensive range to cater to every rider's preference.
Beyond the Horizon: The Future of Bikecraze
As we soar to new heights, Bikecraze is not just a shop; it's a brand. We're exploring avenues for brand development, envisioning private label branding, contemplating store acquisitions, and even contemplating franchise opportunities. The road ahead is as exciting as the electric bikes we champion – full of potential, growth, and the promise of an electrifying future.
Join us at Bikecraze, where passion meets innovation, and every ride is an adventure. Whether you're a seasoned cyclist or a first-time rider, our doors are open, our wheels are spinning, and the journey is waiting. Let's ride into the future together!